Are your staff happy to be in a building on their own?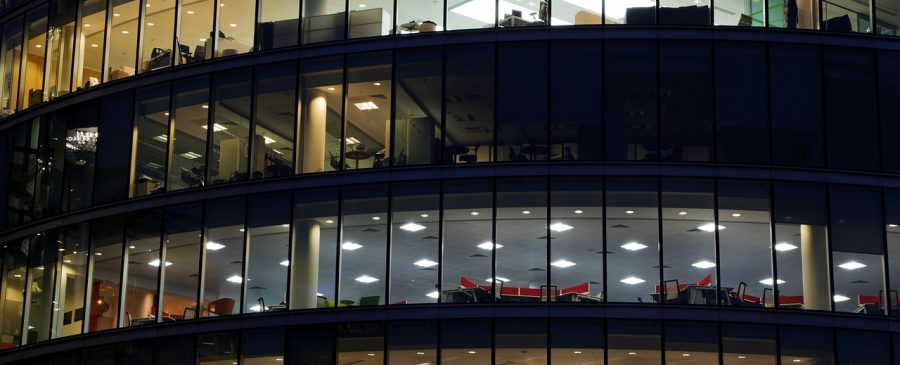 Now it's darker outside, are your staff be happy to be in a building on their own?
When it's dark outside it does change how people feel when they are left on their own; opening up, locking up or just working late.
Staff might not say anything, but actually the reassurance that someone is looking out for them goes a long way for staff well-being and moral.
Even a minor incident, that happens in a dark empty building, can have a lasting impact on the individual and the company.
The MyTeamSafe® app reassures staff and protects the business at a tiny monthly cost, giving you a peace of mind knowing your staff are safe.
MyTeamSafe® is a great way to provide your duty of care to all employees in the workplace, especially your lone workers.
HSE – In general, health and safety laws apply to all businesses, no matter how small. Employers are responsible for health and safety and need to take the right precautions to reduce the risks of workplace dangers and provide a safe working environment.

HSE – Managing health and safety is an integral part of managing your business. You need to do a risk assessment to find out about the risks in your workplace, put sensible measures in place to control them, and make sure they stay controlled.
Accidents do happen. MyTeamSafe® caters for multiple scenarios…
Panic – If you have an accident, or need to raise a panic alarm, you can initiate this at any time
Check-in – During normal operation, everyone just checks in regularly, indicating that they are safe.
Late – If you have an accident and can't reach your phone, or you are unconscious, MyTeamSafe® will detect that you have not checked in and escalate automatically.
If you don't check in within the right time your supervisor will be notified that you're late. This gives him/her a chance to act quickly and check your last location and then decide what course of action to take.
For example, in a high-risk role, you might be expected to check in every 20 minutes. If you are late, your supervisor will be notified. This gives your supervisor the chance to react, perhaps to call you, or other employees that may be working near you, or to start looking for you at your last known location.
You can assign your lone working strategy to your whole company, a group, or specific staff members.
MyTeamSafe® is an award-winning app (Sussex Digital Awards, 2017)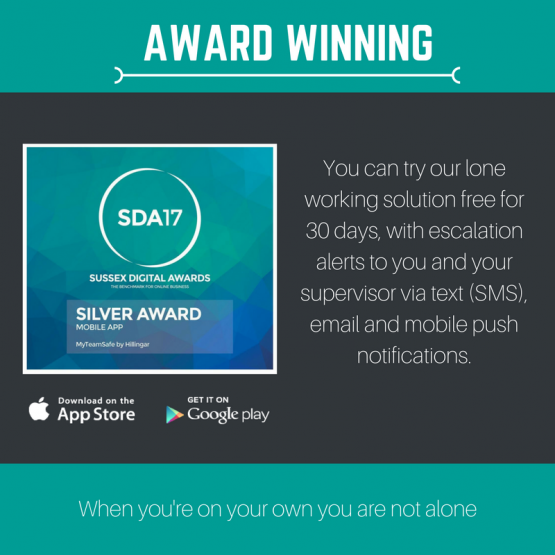 ---
MyTeamSafe® is a lone-working app. Making sure your lone workers and employees check in regularly, notifying you as a supervisor that they are safe.

MyTeamSafe website – you can try our lone working solution free for 30 days, with text (SMS), email and push notifications.