Epipen – How To Save A Life.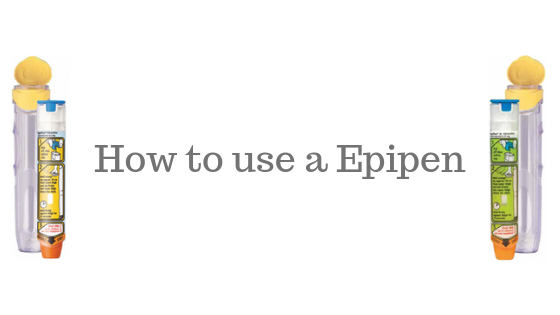 What is an EpiPen?
An EpiPen is an injection for people with very high and significant allergies (for example Peanuts). Once the EpiPen is injected it opens the airways in the lungs. It also includes a chemical called epinephrine which can narrow blood vessels.
What should you be more aware of when using an EpiPen?
People with heart disease or an irregular heartbeat (arrhythmias).
People with high blood pressure (hypertension).
People having thyroid disorders (hyperthyroidism).
People with diabetes.
People with coronary artery disease.
People with Parkinson's disease.
How do you use an EpiPen?
I read a Blog about a young boy aged 14 named Nasar Ahmed, who sadly died at school from a severe reaction to his school dinner.
Here's the blog for the full story. http://www.telegraph.co.uk/news/2017/05/12/teachers-criticised-failing-give-dying-boy-life-saving-epipen/
MyTeamSafe wants to help raise awareness to people that don't know how to correctly use an EpiPen, to help save lives. Here is a short video that can really help you understand how to use an EpiPen correctly.
Here are 4 simple steps how to correctly use an EpiPen.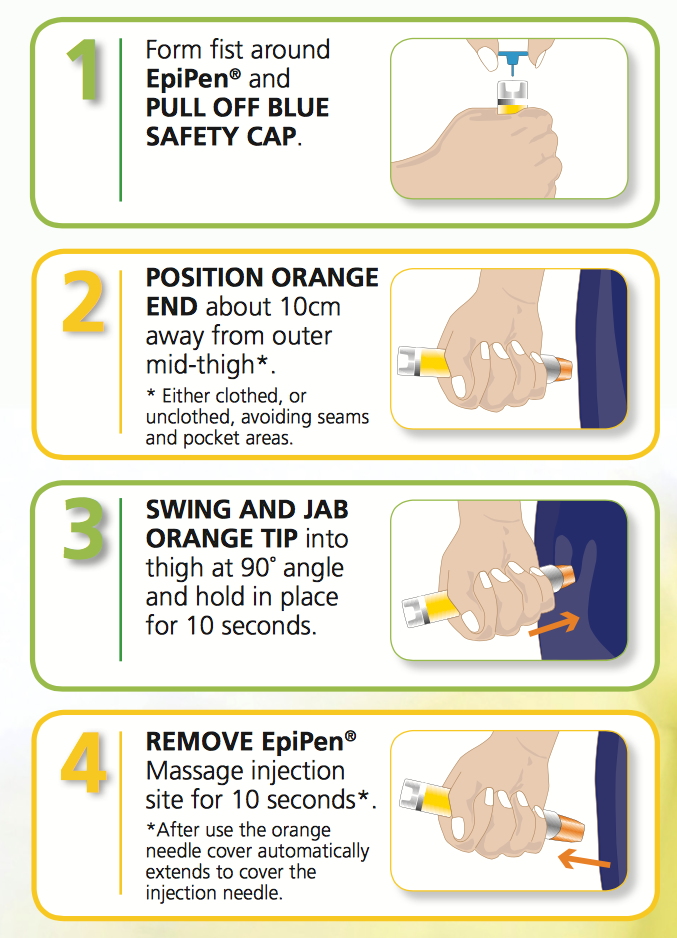 Check the EXPIRY DATE on your EpiPen.
Always carry TWO EpiPens with you.
Possible side effects after the use of an EpiPen injection.
Headache.
Nausea and vomiting.
Feeling weak.
Dizziness.
Paleness.
Sweating.
Anxiety and nervousness.
Shaking, usually of the hands (tremor).
Awareness of your heartbeat (palpitations).
Faster than normal heartbeat (tachycardia).
Abnormal heart beats (arrhythmias).
Difficulty breathing.
Know your EpiPen.
EPIPEN® (YELLOW)

FOR CHILDREN AND ADULTS WEIGHING OVER 25KG

EPIPEN® JR (GREEN)

FOR CHILDREN WEIGHING BETWEEN 7.5-25KG
Your EpiPen® contains life-saving medication and its effectiveness cannot be guaranteed after its expiry date. The expiry date can be found on the side of your EpiPen® and refers to the last day of that month.

If your EpiPen® is out of date, you must replace it immediately.
You can register your EpiPen® at www.epipen.co.uk
By registering with the FREE EpiPen® Expiry Alert Service, you will receive a reminder email or text 4 weeks before expiry, 2 weeks before expiry and 1 day after your EpiPen® expires.
Stay safe. MyTeamSafe®
---
KEEPING SAFE : We all need to take care of ourselves but this is particularly true if you work on your own. It's not about the danger of the job it's about ensuring others know where you are and that you are safe… it's a legal duty of care.

Learn more about Lone Worker safety by visiting the MyTeamSafe website at http://bit.ly/what-is-lone-working – Try our lone working safety app free for 30 days.
Be up and running protecting staff and business in 15 minutes. From £ 2.50 per month you can afford to be protected. "When you're on your own, you're not alone".