Health & Safety in Cleaning Operations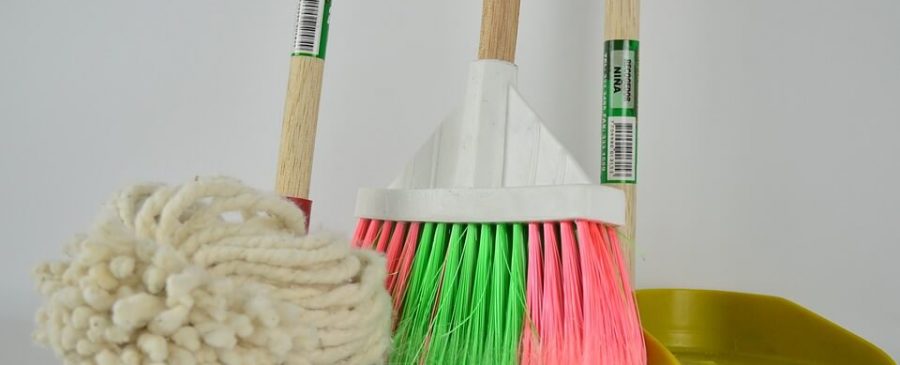 There are many cleaning operations around the UK, and these involve the use of cleaning chemicals and cleaning equipment.
But it's not just chemicals that can create risks to working safely. Ensure cleaning staff always work safely.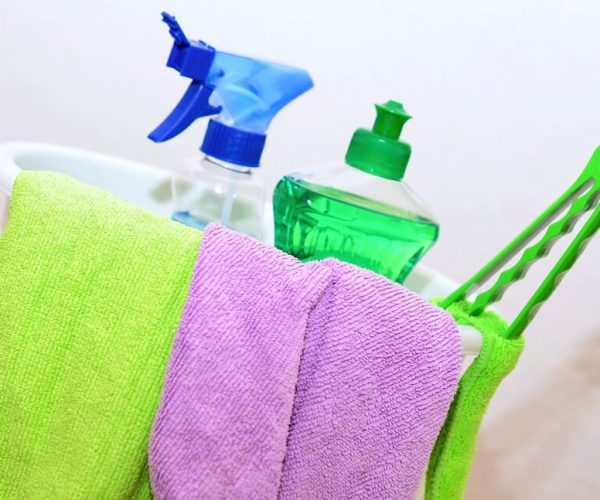 There are many ways that a cleaner's workplace can be controlled in a much safer way. For example, using wet floor signs whilst mopping floors but then removing them when the floor is dry is in an effective way to highlight risk but also shows that you care about people's safety.
According to the legal claims company the Legal Expert, one of the most common types of accidents that they successfully make a compensation claim for on behalf of their clients is what is termed a "slip trip" accident.
In all of these Environments cleaners can have additional risks;
Shops
Hotels
Restaurants
Supermarkets
Public Transport
Café's
Hospitals
Offices and most other public places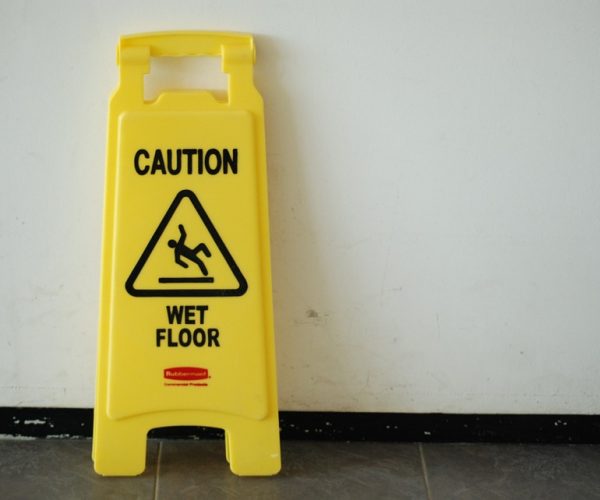 Controlling the environment more safely.
Your workplace should be using Wet Floor signs to warn customers/clients of a wet area from mopping, a spilt drink, or outside water that may have been tracked in due to rain or snow. These safety signs are certainly a necessity, and when used the right way can help you avoid accidents and costly insurance claims. However, many workplaces are creating more danger because of improper use of their Wet Floor signs – or they simply don't have enough of them. – The website www.profitingfromsafety.com is a good source for owners/operators looking for best practise.  How to properly use Wet Floor signs
---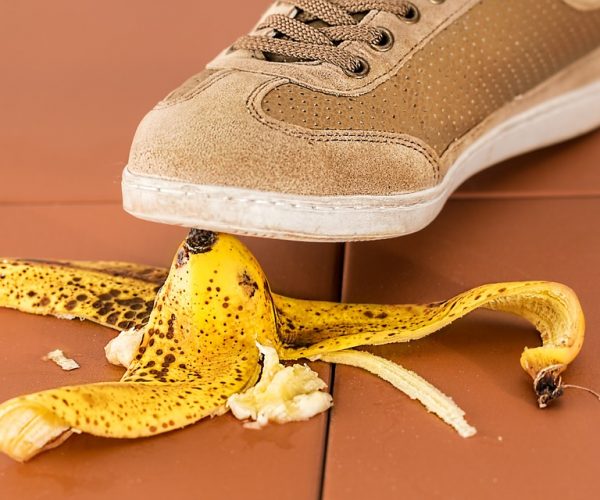 Trip and fall hazards to cleaners
When it comes to the Cleaners, there are plenty of potential hazards they could avoid. Poor housekeeping can affect Cleaners if the site where they are working do not put things away immediately after delivery or do not store them in an appropriate place. Warn others about potential hazards that could cause harm. It's also important to take care of lumpy and worn mats.
---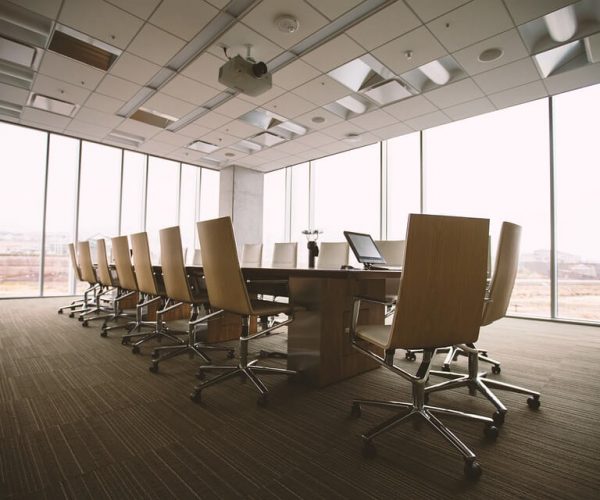 When it comes to working in the office
The biggest hazard when it comes to offices is worn out carpets, open drawers and objects on the floor such as small bins, cables and cords. Make sure to assess the room before cleaning.
---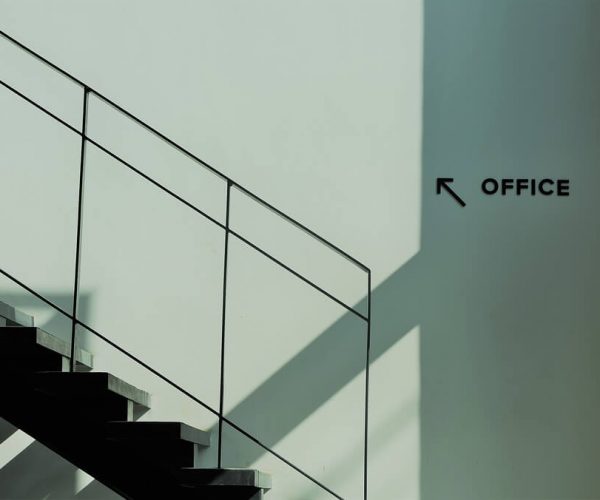 What could make stairs more slippy? MOPS!
Watch out for things that could make your walk on the stairs more dangerous than usual. This could be poor lighting, clutter, missing handrails and again wet stairs. The Cleaner may have not even cleaned the stairs, but the building has sprung a leak onto the stairs. Its very import to make sure lighting works especially when it comes to cleaning the stairs. Never leave your equipment unattended on the stairs.
---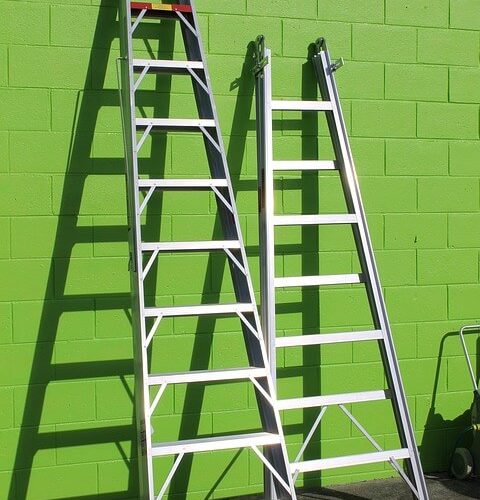 Using Ladders and Stepping Stools
Make sure that ladders are well maintained and working as they should, the last thing you need when cleaning windows is the ladder having problems at high heights. Never use an alternative to a ladder like a box or a chair – that's screaming out for an accident to happen! Make sure you are fully trained to use a ladder before cleaning, and you are wearing appropriate shoes for better grip. When cleaning windows you may find some of the water may splash onto your ladder.
---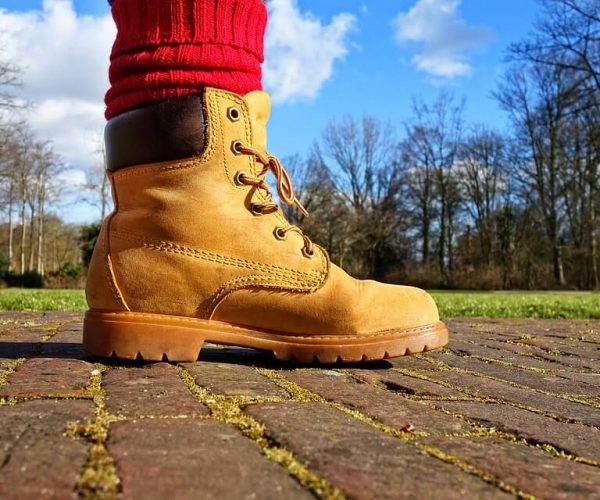 Working in different weathers
We all know that the British weather is very unpredictable; this could be snow, ice, rain or even a heatwave. Make sure you don't stay outside cleaning for too long in hot weather. Wear a hat and sun cream, you don't want to come across faint (this could be cleaning up after a festival or party). When it comes to snow and ice just make sure you are allowed to work outside. Ladders are even more dangerous when there is ice outside.
---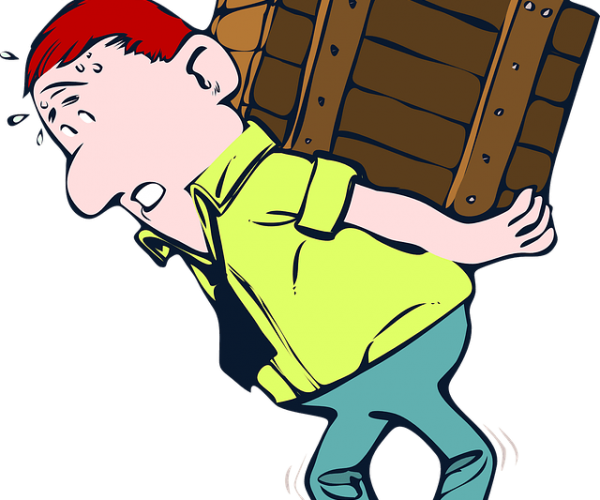 Lifting and cleaning
If you are heavy lifting, make sure that your Manager supplies you with steel cap boots. You don't want something heavy landing on your foot and breaking it. You also need to make sure that you know the proper way to lift heavy objects. – The following website http://www.workplacesafetyadvice.co.uk/guide-manual-handling-lifting-techniques.html is a good source for Materials Handling and other safety information.
Do not attempt to lift by bending forward. Bend your hips and knees to squat down to your load, keep it close to your body, and straighten your legs to lift.
Never lift a heavy object above shoulder level.
Avoid turning or twisting your body while lifting or holding a heavy object.
---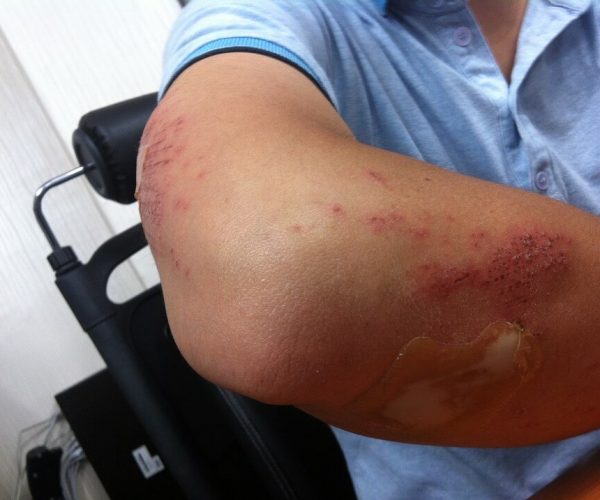 What injuries could you suffer with after a fall?
Slip and fall incidents often result in injuries such as sprains, muscle tears, bruises, back and neck injuries, concussions, and broken bones in the arms that occur when someone instinctively tries to catch him or herself. These injuries can lead to time away from work and medical bills. Even ignoring potential claims, Companies may need to find replacements for injured employees while they recover. BetterPT's blog Knowing the Severity of Your Injuries From a Slip and Fall Accident is a great read.
---
How much could you claim for an injury in compensation?
| Injury | Compensation |
| --- | --- |
| Severe shoulder injuries | £14,600 to £36,500 |
| Pelvic injuries | £3,000 to £99,500 |
| Broken wrist | £2,675 to £3,600 |
| Knee injury – minor | Up to £10,450 |
Supplied from: Legal Expert
Risk Assessments should be in place.
No matter how big or small the job is, the Manager must assess the area where the cleaning staff will be working, noting any parts of the workplace that may be a risk or potentially cause an accident or harm to the workers or the public.
Here is a good example of a Risk Assessment from Hertfordshire Grid for Learning – The Grid . This assessment is for School Office Cleaners.
Here you can see what the hazards and risks are, who is at risk, how the hazard can cause harm and normal control measures. This is split into 4 sectors;
General lifting and carrying
Cleaning and using equipment
Use of electrical equipment
Use of cleaning chemicals and detergents
This is laid out to help the cleaners identify who is at risk and the hazards facing them before they start the job.
You can review a copy here http://www.thegrid.org.uk/info/healthandsafety/documents/risk/cleaning_2010.doc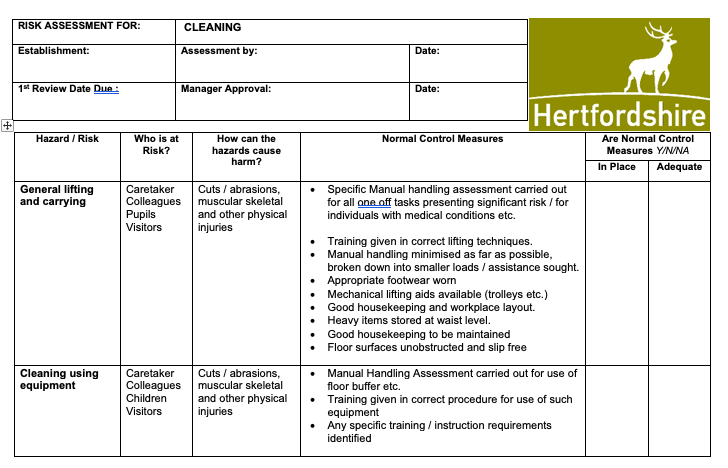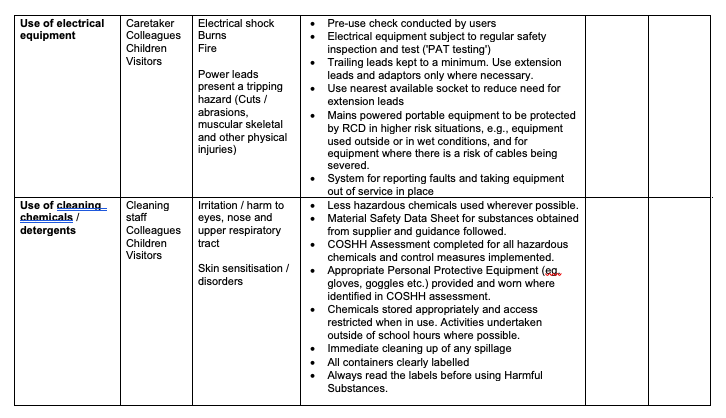 And finally, the HSE website is always a great source of guidance and information for any Health and Safety matters
http://www.hse.gov.uk/risk/casestudies/officecleaning.htm