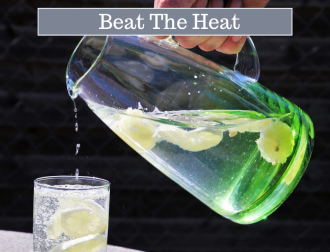 It's the Summer and it's the roll of the dice … storms or fun in the sun.
When it's hot it does seem to get really HOT! now. This also means that you need to be proactive to protect yourself and staff from the sun and hot weather.
MyTeamSafe wants to help you be more aware of the risks of getting too hot and some simple wellbeing tips to keep you safe so you can really enjoy this time of year.
Most Harmful Effects Of The Sun
Heat Exhaustion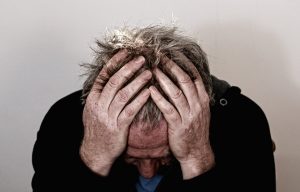 This is the body's response to excessive loss of water and salt.
Symptoms of heat exhaustion include:
Headache
Nausea
Dizziness
Weakness
Irritability
Thirst
Heavy sweating
Elevated body temperature
Decreased urine output
The St John's Ambulance has a great page on this.
Heat Stroke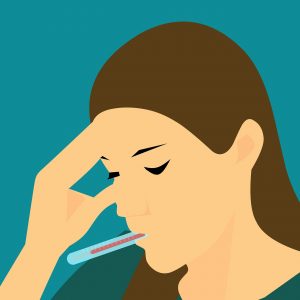 Heatstroke can be life-threatening. Heat exhaustion can quickly lead to Heat Stroke if it isn't treated quickly. Often Heatstroke can happen when your brain stops being able to regulate your body temperature and you are too dehydrated to be able to sweat.
Symptoms of heatstroke include:
Confusion, altered mental status, slurred speech
Loss of consciousness (coma)
Hot, dry skin or profuse sweating
Seizures
Sabrina Barr wrote a nice article in The Independent a while back;
https://www.independent.co.uk/life-style/health-and-families/heatstroke-symptoms-treatment-sunstroke-heat-exhaustion-uk-weather-europe-heatwave-a8975331.html
The NHS UK website has some great information. www.nhs.uk/conditions/heat-exhaustion-heatstroke/
Sun Burn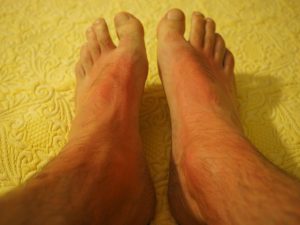 The most common heat-related illness is sunburn. Some people can burn in minutes but the symptoms may only appear after many hours.
The NHS website defines the general symptoms of sunburn as;
Redness
Pain/tenderness
Swelling
Blisters
Flu-like symptoms, such as nausea, fever, chills or headache
Again the St John's Ambulance website is a great point of reference.
www.sja.org.uk/sja/first-aid-advice/hot-and-cold-conditions/sunburn.aspx
Although most of us need to take simple precautions in the sun it's also worth noting the more serious side of skin damage that can lead to different types of skin cancer, according to the British Skin Foundation;
So how can you beat the heat?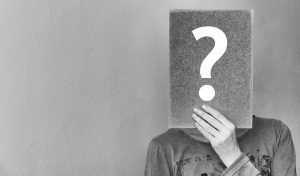 We found this brilliant WikiHow that we wanted to share.
It has lots of simple tips, some more obvious than others, on different methods to keep you more comfortable during the hotter weather.
Read the full WikiHow article but we've summarised below. Some tips obvious, some may not be applicable .. but we're sure you'll find some perfect;
Eating and Drinking to Stay Cool

Don't wait until you're thirsty to drink.
Choose cooling foods. (stay away from protein foods)
Make food without using the oven or stove.
Stay out of the sun while it's at its hottest.
Wear sunscreen!
Stay in the shade.
Splash water on your skin.
Wear lighter clothing.
Keep your head covered.
Wear breathable footwear.
Be Prepared; check local weather or news for updates.
Pace yourself when working in the heat.
Use fans.
Use air conditioning, if available.
Close curtains and blinds.
Minimise the effects of sunlight on your roof.
Insulate well. (Better Insulation means less heat in the summer).
MyTeamSafe can't keep you cool but we can help keep staff safer?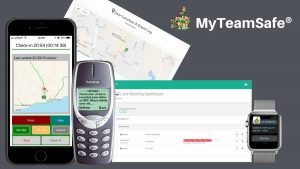 Especially over the summer holiday times staffing levels might be different or you have temporary staff that don't know your business. At this time of year it's also more likely that staff could be left on their own. With hot temperatures indoors and outside the probability of an incident is much higher.
MyTeamSafe is a simple, cost effective safety app that can help protect employees and businesses.
How can it protect employees?
Once set up, users run the app and simply check-in at the agreed intervals, say every hour. If they don't check-in on time then their boss/buddy/supervisor is informed by text or email with all the user's information, including last location, so they can decide what to do next.
How can it protect the business?
By having a simple, cost effective, set and forget Lone Worker safety system you can quickly cover your legal duty of care obligations by having a defined system and procedure to deal with lone working staff. You also reassure staff you have their wellbeing in mind.
Minor incidents can be solved quickly and effectively and don't turn into costly ones.
Don't leave staff all alone, especially when it's really hot…. sign up for a free trial Today.
To protect 15 staff costs just £450 a year … Compare that the cost of lost working days, HR meetings or even Legal proceedings.
Take a look at our Demo Video showing you MyTeamSafe in action.
If you have found this blog interesting please feel free to share using the links below.