Improve location tracking and accuracy
The following guide provides some quick tips on how to get the most of MyTeamSafe's functionality.
Improve location tracking and
accuracy
Both Android and iOS do everything that they can to improve battery life but often, this can be a little over zealous and at the expense of legitimate apps requiring location updates.
The tech team at MyTeamSafe are constantly tweaking the app as new OS versions come out.
For Android different manufactures also have their own methods of putting apps to sleep.
Here are some tips if you are are finding lone worker locations aren't updating as often as you would like.
Looking at the User History you should be able to see regular location pin updates, especially if the person is moving.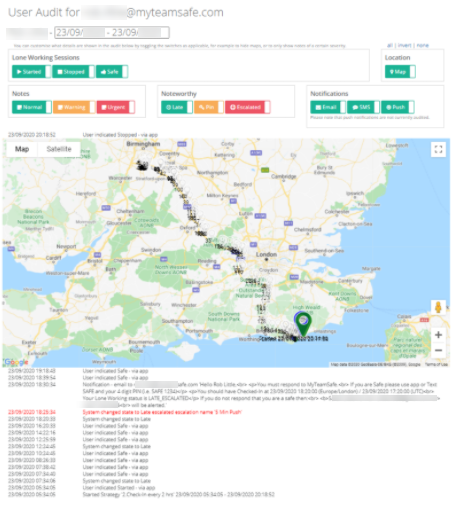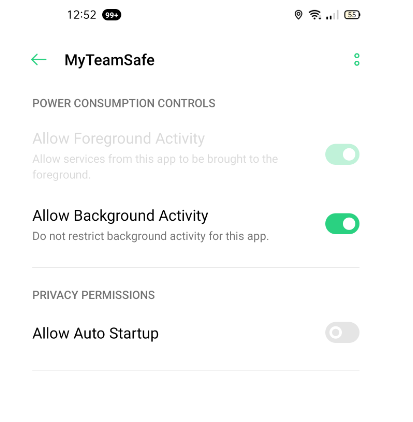 Battery Optimisation
Different phones have different ways of stopping apps being put to sleep.
Always ensure MyTeamSafe is NOT Battery optimised and is allowed to operate in the background.
This specific screenshot is from an Android device
The following 3rd party link is a good article showing exactly how to change background/battery settings for a range of mobile brands (all Android) - https://kb.adguard.com/en/android/solving-problems/background-work
Location Always
When asked always set the Location to be Allowed ALWAYS (not just when using the App).
The ALWAYS setting simply allows the app to update the location in the background, when a lone working session is running. Otherwise the location will only up date when you are looking at the app.
Don't worry ALWAYS doesn't mean that MyTeamSafe is always tracking your location. It can only update your location if a Lone Working session is active. As soon as you stop a session. ALL location tracking is stopped too.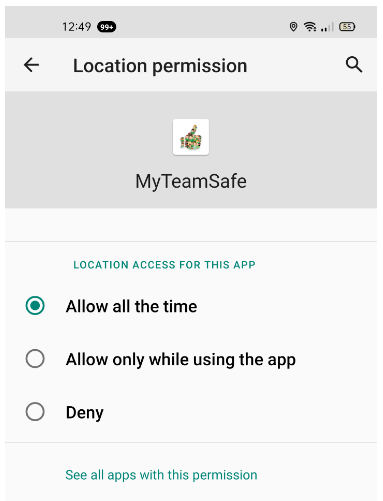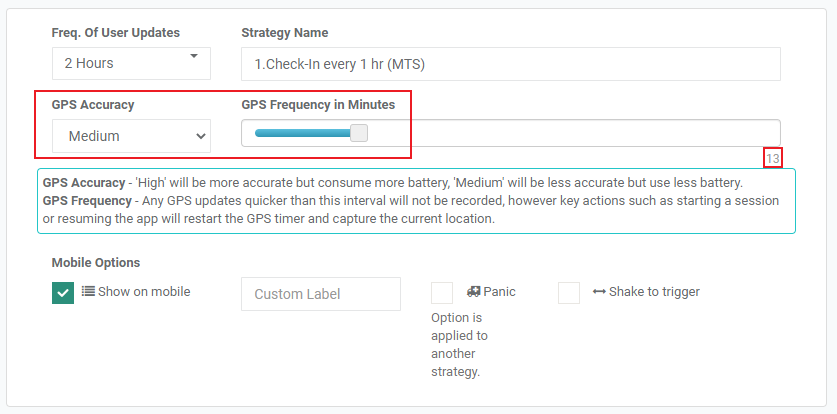 In the strategy
Switch GPS Accuracy from Low to Medium.
Change how often location update is logged, try "GPS Frequency in Minutes" set between 10 and 15
Locations often only update if there has been a "significant" movement. So don't be surprised if the location isn't update very often if you are not moving to a different place.
Poor location accuracy
If you find the location Pin accuracy is always poor (the size of the circle around the pin) or you know the correct location and the pin isn't in the right place then try the following to improve accuracy.
In Location enable WIFI And Bluetooth "scanning".
With Apple iOS if you switch off WIFI and Bluetooth this stops scanning even if Location is on,
For Android the "allow scanning" option is found within the Location settings area (this is accessed in different ways depending on the version you are running).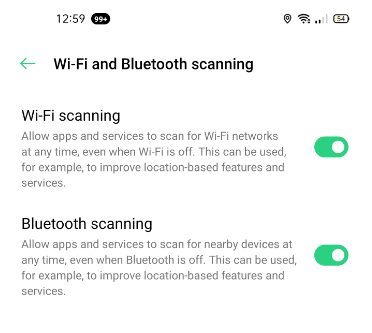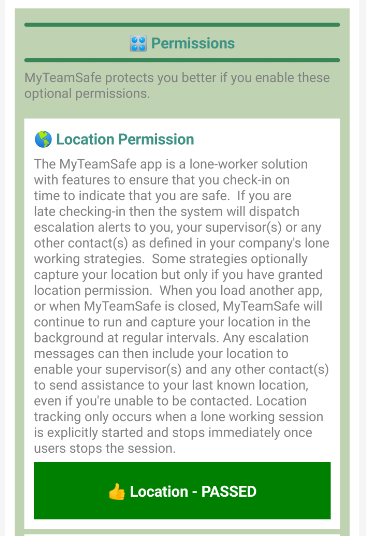 No Location at all
If when you have a live lone working session and no map is shown, just a picture or you look in the dashboard and no location pins are visible then no location updates are being sent for that user.
If you normally get location updates but they have suddenly stopped first check in the phone settings that Location isn't completely switched off for all apps.
Check that you have given the App permission to record location. Click on the Settings "Cog" in the app and choose On-Boarding (Permissions). Here you can check the Location has Passed and is in green or you need to Grant permission.
In the phone settings check that "Location" is set to On and you have allowed MyTeamSafe to ALWAYS access your location. You may also get occasional reminders to re-confirm that you ALWAYS ALLOW location permissions.
In the admin Dashboard check that the strategy you are running is actually set to log your location.
The GPS Accuracy should not be OFF but set to Low, Medium or High. Update Frequency needs to be set in minutes.
The above information should resolve any "location" recording issues but if you are still having an problem then please do contact our friendly support team using the Green ? bottom right of this screen.
If you would like some more best practice information so you get the most out of MyTeamSafe why not read the following general guide too.